Monthly Virtual Coffee Chats

Monthly Virtual Coffee Chat
Mark your calendars for FCO's monthly get together. Join fellow FCO members on the third Wednesday of each month at noon (Eastern) for a virtual get together/coffee.
These chats offer members an opportunity to stay connected, share ideas and solicit feedback from colleagues on important topics and issues.
Members are encouraged to continue the conversation after the chat using the Coffee Chat message board.
Visit Events Calendar for more information and to register.
** Restricted to FCO members only. **
Not a member of the FCO? Learn more about Member Benefits.
Next Virtual Coffee Chat
July/August - Summer Break
September 20, 2023 - TBD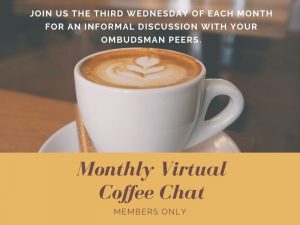 ** Members Only **
Past Coffee Chat Topics
June 21, 2023 - Tools Ombuds Use

May 17, 2023 - How to Measure the Success of the Ombuds Office
April 19, 2023 – Mentoring staff within Ombuds offices
March 15, 2023 – Dealing with reprisal and retaliation/whistle-blowers
February 15, 2023 – Managing querulous complainants
January 18, 2023 – What is Fairness?
November 9, 2022 – Pros and Cons of different methods of communication (email, phone, letter)
September 21, 2022 – The Future of Ombudsing in Canada
June 15, 2022 – Awareness: An Ombud's Achilles Heel (Part 3 of Opportunities and Threats Facing the Canadian Ombuds Community)
May 18, 2022 – The New Normal: Investigations In the Hybrid Workplace Model (Part 2 of Opportunities and Threats Facing the Canadian Ombuds Community)
April 20, 2022 – Having an Impact: Ways to Measure Success (Part 1 of Opportunities and Threats Facing the Canadian Ombuds Community)
March 16, 2022 – You and Your Frontline Staff
February 16, 2022 – Dealing with Distressed Callers
January 19, 2022 – Case Management
November 17, 2021 – Emerging From the Pandemic
October 20, 2021 – Renewal